Single Girder Crane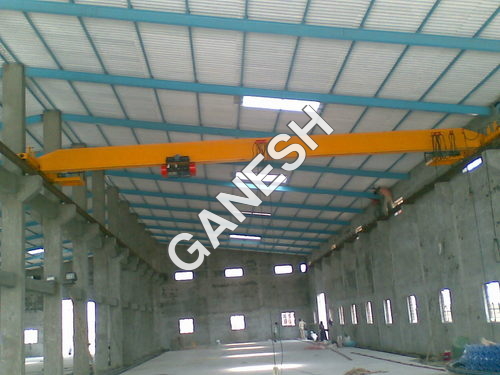 Single Girder Crane
Price And Quantity
Unit/Units

500000.00 - 2000000.00 INR
Product Specifications
1 to 200 Tonne

1 to 50 Meter (m)
Product Description
Single Girder Crane
We are renowned as one of the reputed manufacturers and exporters of Single Girder Crane. Available in a wide range of capacity starting from 1tonne to 10tonne, these cranes have single box girder attached with a hoist that runs on the lower flange. At our end, we make sure that all these cranes are manufactured in accordance with the IS: 807, IS: 3177 specifications. Only quality tested steels are used for manufacturing this Single Girder Crane. All our cranes are widely acclaimed in the industry for their capacity to carry heavy loads and robust construction.
Product Specification
| | |
| --- | --- |
| Max Load Capacity | 1-5 ton |
| Girder Type | Single |
| Travel Speed | 5-10 m/min |
| Span | 10-20 m |
| Material | Mildsteel |
| Usage/Application | Industrial |
| Corrosion Resistance | Yes |
| Brand | Ganesh Engineering |
Specifications

Equipments

Single Girder EOT Crane

Capacity

Available in 1ton, 2ton, 3ton, 5ton, 7.5ton& 10 ton

Span

Up to 20 meters

Test Load

125% of SWL

Height of Lift

Standard 6 meters (also available as per customers requirements)

Duty & Class

Available in Class-II, Class-III, & Class-IV light , medium and heavy duty

IS Code

IS 807, IS : 3177

Construction of crane

End Carriages

The End Carriages are welded construction type and fabricated from plates 7 Standard Section type constructions

Bridge Girders

The Main girder is of Standard Section type or plate fabricated box type( as per Crane Capacity and Span) construction design to sustain all stresses arising due to vertical & lateral forces with impact to which they are subjected. The maximum deflection of the main girder is limited to 1/1000 the span of live loads including the weight of the trolley or hoist.

Platform

M.S. Checkered plate/anti skid two small platform shall be provided one side of the bridge girder.

End Stopper

Steel end stoppers are provided on either side of the bring to limit the motion of the Hoist. All the buffers will employ springs for shack absorption.

Steel

Steel confirming to IS-2062 or equivalent is used in the manufacturing of the main load bearing.

Ele. Motors

All motors are used in Crane are flange mounted type or foot mounted type squirrel cage or Slip ring type induction motor specially designed and manufactured as per IS 325 for crane & Hoist duty of reputed make

S-4 duty, Squirrel cage or slipring type motor, 40% CDF, 150 S/hr.,

IP 55 with Class F insulation.

Gearboxes

All gearboxes, which are used in Hoisting, L.T. and C.T., are helical type with M.S. Fabricated Housing, Pinions and output shaft are supported on antifriction type roller/ Ball bearings. All Gears and Pinions are of En-24/En-19 materials precision machined and teeth cutting by hobbing machine duly hardened to with stand the heavy loads.

Brakes

Electro Hydraulic shoe type Thruster brake is providing in the Hoisting, L.T. & C.T. This brake is automatically released when the motor circuit is on and is applied the motor circuit is off.

Also providing of Electro magnetic Disc type or Shoe type brakes for all motion as per customers request

Wire rope

The make of wire rope will be used Usha-martin and selected as per 4 to 6 time factor of safety

Rope Drum

The rope drum is of mild steel fabricated construction having right and left hand spiral grooves machined to suit the hoisting ropes. The drum is of such length that there is not more than one layer when rope is full wound.

Bottom Block

Bottom Block Assembly consisting of forged steel hook single shank type as per IS 3815 mounted on thrust Ball Bearings, with required diameter rope sheave and hook plates made out of steel

Wheels

The wheel of the trolley & the end carriage will be used forged steel conforming to IS 2707 GR.II duty spin hardened to 300 BHN or steel cast EN-9, material, double flanged straight tread type for L.T. Motion and Signle flanged type for C.T. Motion fitted with antifriction type bearings mounted on section type bearing housing easy to maintenance.

Bearings

All moving parts of the crane are supported on the anti friction type ball/roller bearings. (all bearings are SKF/ZKL/ or equal ant make)

Supply Voltage

415, 3ph., 50hz., Supply.

Control Voltage

110V.

Switch Gears

BCH, L&T, Siemens, TC or your approved equivalent Contactors, switches are providing in Ele. Panel

Push Button

Pendent type with hanging chain or wire rope

Ele. Cables

Flexible Copper Cable with ISI mark or reputed make

Limit switches

two numbers rush roller type limit switch of reputed make is provided to prevent over lowering & over hoisting

Painting

The structural parts of the crane are thoroughly cleaned and applied with two coats of red oxide and two coats of enamel paints before dispatch.
Standard Features of Single Girder EOT Crane
Simple and optimum Design ensuring minimum dead weight, Wheel Load Headroom and easy to maintenance
Easy to installation
Reliable structure
Available in Pendent control type or radio remote control type
Single or double speed type
Safe and reliable hoisting and traveling
Higher efficiency to save power
Chipper in cost
Fail safe type brakes (which are applied when power supply is off and release when power supply is on.)
All motion are protected with limit switches
Rubber buffers are provided to extra protection against collision in case of limit switch failure
Dustproof panel box with reputed make switch gear or as per customer approval
110 V Control voltage selected for protection of Crane operator against any electrical shock
With electrical Interlocking to prevent simultaneous operation of opposite motion
Available with Radio remote Control operated type.
Available in Class-I, Class-II,Class-III, and Class-IV, Duty